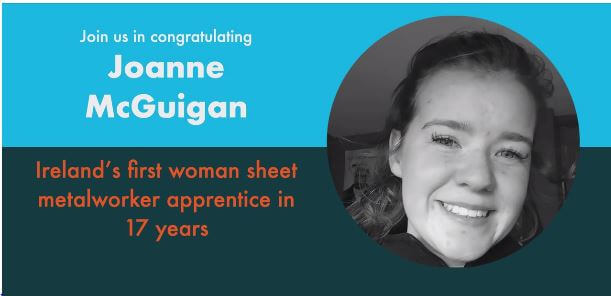 Employed by McAree Engineering, Co. Monaghan, Joanne's apprenticeship provides on the job training combined with and off-the-job learning in Waterford and Wexford Education and Training Board. Joanne is one of the over 1000 women now working and training in an apprenticeship roles across the country.
Joanne, who is expecting a baby in June says "everyone should get the chance to do whatever they want, no matter who they are. Just do it and don't be afraid to stand out." From county Monaghan, Joanne explains why Apprenticeship was a good fit. "I was really interested in learning on and off the job.  Everything was new to me when I started, but, I quickly got the hang of it and your confidence grows as your skills develop. My instructor has been really helpful and kind. To be a sheet metal worker you need to be well-organised and have strong practical skills. I enjoy drawing and this has helped me enormously in following engineering plans which are an important part of the work. At the minute I am helping to prepare detailed programmes for laser cutting machines. It is precision work and involves a lot of staff interaction."
"Doing an apprenticeship is a great way to get qualified in the area you're interested in," she adds. "It's a collective effort and you are moving forward and growing all the time. At college you get to learn from great tutors and at work you get to test your knowledge with people who are at the top of their game. My experience of apprenticeship has been very positive and I hope it's not too long before I say hello to the next woman sheet metalworker apprentice in Ireland."
Commenting on Joanne's achievement, Mary-Liz Trant,  Executive Director, SOLAS said, "By celebrating great role models like Joanne we make women more aware of the diverse career opportunities available through apprenticeship. Warmest congratulations to Joanne and her employer McAree Engineering. I hope their story prompts more interest and I would encourage anyone with questions to visit www.apprenticeship.ie where they will  find more  excellent examples of women in apprenticeship."
Waterford Training Centre Manager, John Cassidy, said "We were delighted to welcome Joanne to her Phase 2 training at WWETB, Waterford Training Centre in 2020. She quickly developed her knowledge and skills to a very high level. There is so much opportunity and we hope that Joanne's success will encourage more women to take up the gauntlet and enter the world of trades, as skills change lives."
Vincent McAree, Operations Director, McAree Engineering added "We are very proud of Joanne, like we are of all our Apprentices who are undertaking a range of Apprenticeships from Sheet Metal Working, Metal Fabrication, Electrical, MAMF. Indeed this year, two of our staff, Ciara McGreevey and Ausra Rimsaite graduated from the Accounting Technician Apprenticeship.
"We didn't know that Joanne was the first female sheet metalworker apprentice – to us, she just displayed the interest and desire and all the necessary skills to become a very valued member of our team. We are delighted that she is progressing her career with McAree Engineering through her apprenticeship."
"We see Apprenticeships as a valuable and core component of our staff development. We have a strong ethos of promoting from within and many of our managers, who are mentoring our young apprentices have themselves, completed their Apprenticeship training. The skills that Apprentices learn over the apprenticeship period both in the workplace and through the formal ETB's placements stay with them throughout their career."
Apprenticeship programmes provide an important alternative route to gaining professional qualifications and the expansion in the number and variety of apprenticeships is to be welcomed."