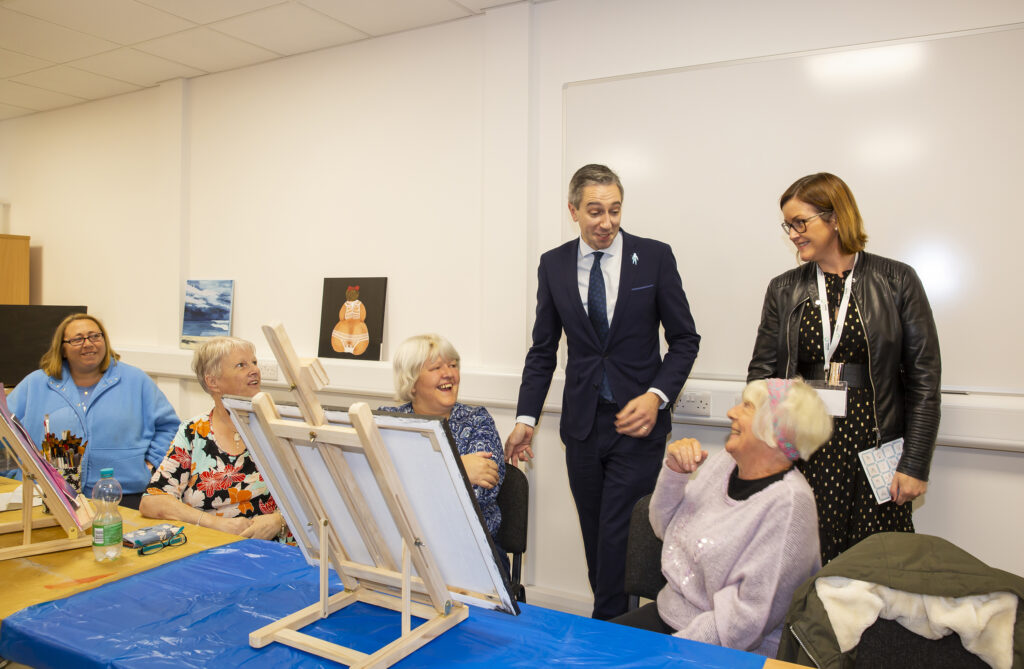 Friday 6th Sept 2023
Minister Simon Harris opens Wexford's new College of Further Education and Training
There was an air of excitement among staff and learners of Waterford and Wexford Education and Training Board (WWETB) upon hearing that Simon Harris, Minister for Further and Higher Education, Research, Innovation and Science would be paying a visit to officially open Wexford College of Further Education and Training, one of the first Colleges of its kind to open in Ireland. The College brings together education and training across a wide range of programmes, including apprenticeship courses, part-time and full-time courses and community education programmes. The Minister was brought on a tour of the facility and was visibly impressed with the standard of the facilities and the breadth of provision available under one roof. He was particularly pleased to have the opportunity to meet with many learners, who shared their education journeys with him. He also made time for the many staff he met, who described to him the overarching mission of the new College – to make it an inclusive space with high quality provision for learners of all ages, to support them on their pathway of learning.   The Minister noted his excitement at the College of Further Education and Training now standing side by side with the new Southeast Technological University – evidence of the transformation of education provision in the region. The Minister was emphatic in his support of the new tertiary education model – which refers to all types of education beyond second-level – and said that there is 'a need to move beyond the concept that 'all roads must lead to a big city'. He advocated the model of providing education in the regions, where it is easily accessible to learners and where there is often a better understanding of the needs of the region in terms of upskilling people to avail of employment opportunities.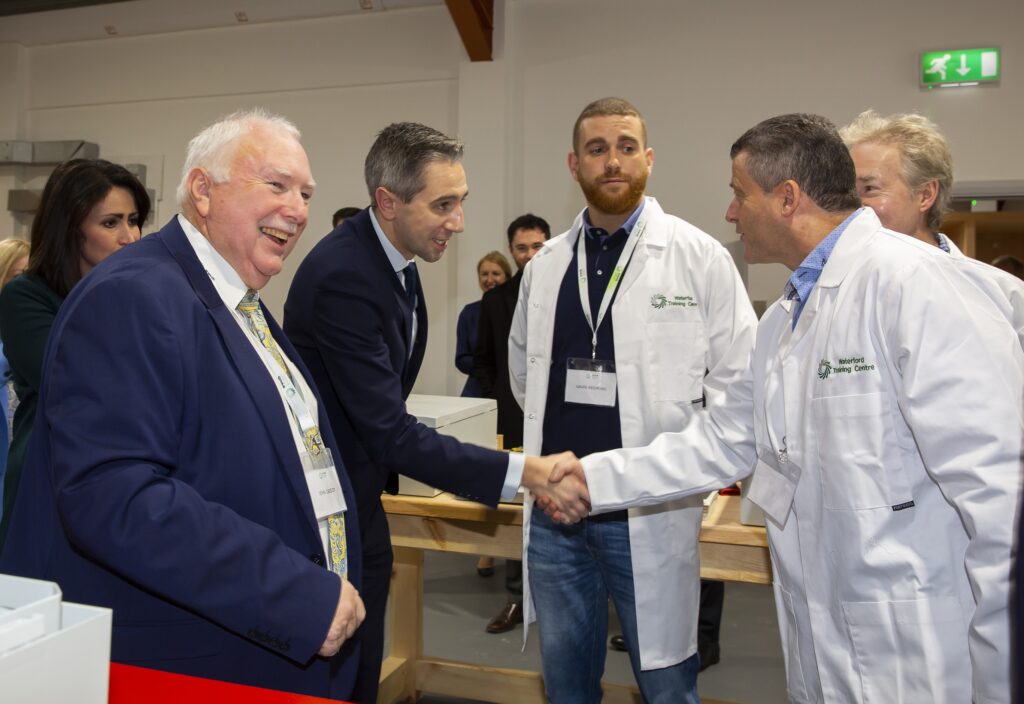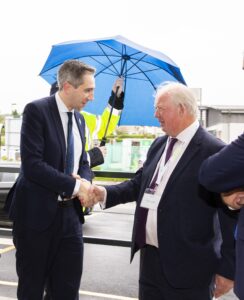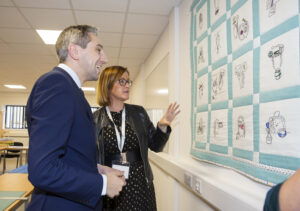 Minister Simon Harris highlighted that there is a need to broaden our collective view of education, stating that 'there is not one way of doing education – there are lots of different ways – part time, online, direct from school to university, from the workforce back into education, learning whilst working like our apprenticeship model, and upskilling while in the workforce'.
The Minister paid tribute to the Chief Executive, Kevin Lewis for his sterling work and leadership in ensuring that this vision became a reality for Wexford town. He finished with a word of advice for the second-level students attending the event, when he advised them that 'when it comes to education and what you decide to do after school, you should go with what's in your heart. Ask yourself – what difference do I want to make in the world? Go with what's in your heart, and you will make a big difference'.
Wexford Mayor, John Hegarty, also addressed the room full of staff, learners and guests. He paid tribute to Minister Harris for the focus and attention that he has placed on the area of Further Education and Training since taking up his ministerial position. He continued: 'Further Education and Training is a really good option right on the doorstep, where learners can remain part of their own communities, and, at the same time, learn in a really positive environment and make connections and plans for the future. I have seen so many students flourish in this type of positive environment and they can leave, not only with an excellent qualification, but as more confident, resourceful and self-aware learners. The transformation that can happen is remarkable.'
Cllr Barbara-Anne Murphy, Chair of WWETB and Andrew Brownlee, CEO of SOLAS, also addressed those present, as did the outgoing Chief Executive Kevin Lewis, who thanked the Minister's Department for sanctioning the funding that helped to bring the concept to a reality. He followed by saying that rarely had he seen such energy and enthusiasm to ensure that this concept and fine building would become a reality. He paid tribute to WWETB staff, SOLAS and the Minister's Department in this regard. WWETB staff were also delighted to welcome Professor Veronica Campbell, President of SETU, Tom Enright Chief Executive of Wexford County Council, Paul Kehoe TD, James Browne TD, local County Councillors, staff and learners to the event. Music Generation Wexford's Yellow Bellows were also delighted to perform for the Minister and those present.
For more information, visit the Further Education and Training (FET) section of www.wwetb.ie  or the Wexford College of Further Education and Training page