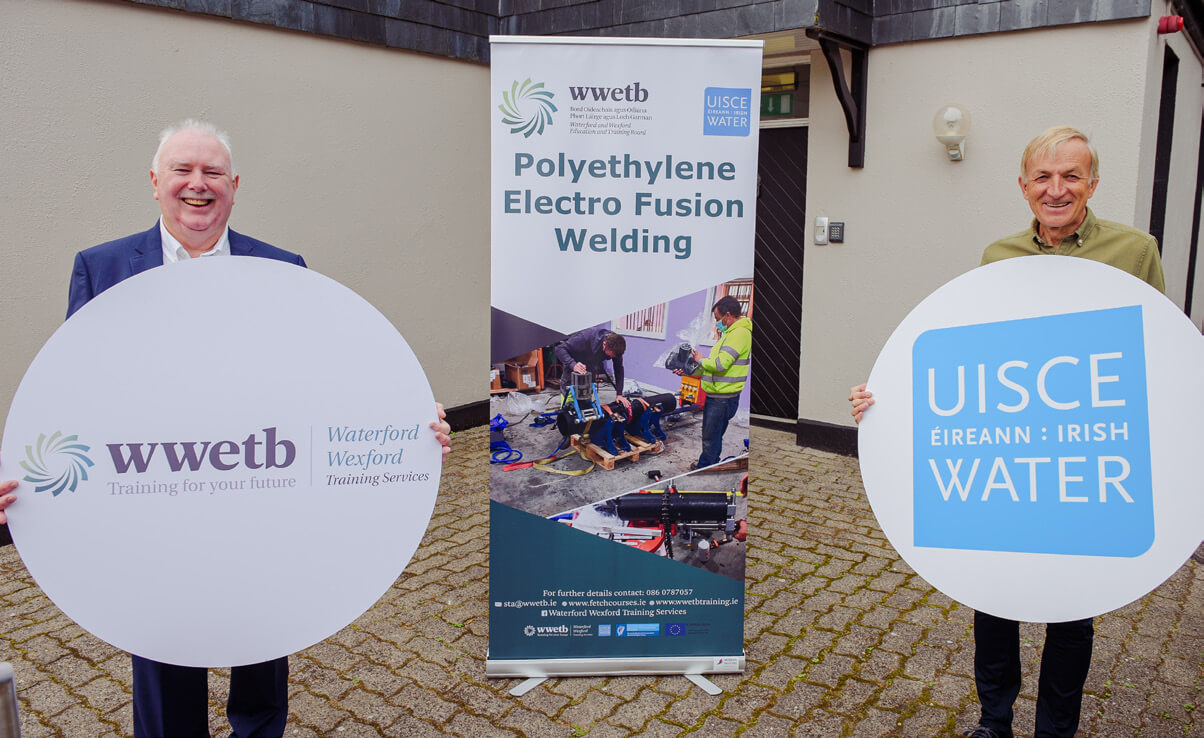 Waterford Wexford Education and Training Board (WWETB) and Irish Water recently announced the launch of a fully certified to EN 13067:2020 Polyethylene Electro Fusion Welding training programme to meet the expansion of the use of Polyethylene Welding in the Irish Construction sector. WWETB's Chief Executive Kevin Lewis said "As an upskilling and reskilling opportunity this course supports the national skills agenda and WWETB continues to work closely with industry to identify skills gaps and provide targeted training solutions".
Eoghan who took part in the pilot course said "The Polyethylene Electro Fusion Welding course was enjoyable, very interesting and very beneficial to my job. I got a good overall understanding of the course topic. The instructor was very knowledgeable and gave good clear instruction and explanations. The venue was comfortable and provided everything you would want. My company is currently looking at growing in this section of the industry and this course has given me the skills to help me advance."
The response to addressing this training need was initiated by WWETB in their role as a key partner to industry in terms of employee upskilling and training. This course is being fully Government funded for participants under the Skills to Advance initiative.
Mary Lyons, Director of Enterprise, Employees and Skills with SOLAS, the Further Education Authority, said: "The aim of the Skills to Advance programme is to equip employees with the skills to progress in their current job, or to take advantage of new job opportunities. It is a hands-on, practical course that directly addresses a pressing need in the local economy, assisting the development of employees while boosting business opportunities for their companies.
Commenting on the announcement of the new course, Fergus Collins, Head of Capital Delivery at Irish Water said, "Irish Water were delighted to be working in conjunction with the WWETB on the development of the course material associated with this training programme and in doing so help raise the knowledge, standards and expertise within the supply chain on our technical requirements in this area. Irish water feel that supporting industry skilled training programmes such as the this can only help drive the quality and consistency across the industry to the benefit of all"
This course is particularly suited to those who have or are currently working on an Electro Fusion project. The objective is to provide the learners who have previous experience in Polyethylene Electro Fusion Welding with the skills to enable them to use Electro Fusion welding equipment to weld/join polyethylene pipe safely on potable water and waste water mains systems using Electro Fusion Techniques to IS EN13067:2020 standard. On successful completion of this 4-day course there are also up to 34 CIRI CPD points available.
The Construction Industry Federations (CIF) Southern Region Director, Conor O'Connell said "The CIF would like to commend the continued good work of WWETB. CIF South East Branch representative Tom O'Brien has been part of the WWETB project management team, which was formed to develop and implement innovative delivery modes of training, Site Supervisor and Retrofit NZEB programmes. The new Polyethylene Electro Fusion Welding Course further demonstrates this link with industry with the course being developed closely with Irish Water.