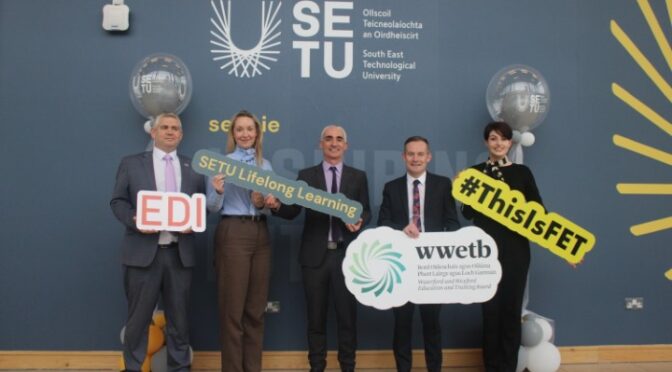 South East Technological University (SETU), through its Faculty of Lifelong Learning has deepened its collaboration with Waterford and Wexford Education and Training Board (WWETB) to deliver supportive and engaging Equality, Diversity and Inclusion (EDI) masterclasses to advance the EDI agenda across the further and higher education sectors.
The need for such initiatives is clear and was outlined by Minister Simon Harris TD in his foreword to the 'Progressing A Unified Tertiary System for Learning, Skills and Knowledge' report launched earlier this year.
The collaboration between SETU Lifelong Learning and WWETB is an exciting and timely development in this space and is a clear demonstration of the huge potential for meaningful co-operation between the sectors for the benefit of both entities and indeed the wider region.
This series introduces the theories, practices and ideals of EDI. It consists of four, one-hour sessions of the following themes:
1.What is Equality, Diversity and Inclusion?
2.The Role of EDI in Supporting Learners
3.The Role of EDI in Providing Education
4.Unconscious Bias and Why Does It Matter
---
Commenting on the launch Dr. Joseph Collins, Head of Faculty Lifelong Learning at SETU Carlow commented:
"At SETU and in the Faculty of Lifelong Learning we continue to strive to reach outside our traditional boundaries and in keeping with our commitment to lifelong learning, industry connectedness and learner centred delivery our approach has centred on equipping the learners on our programmes to scope, develop and implement EDI best practice in their respective workplaces.
We in SETU view today not as the culmination of a journey but rather the beginning of a deeper engagement as we seek to learn from and grow with our partners in WWETB."
Echoing that sentiment Lindsay Malone, Director of Further Education and Training (FET) at WWETB affirmed that:
"We are delighted to work in partnership with our colleagues in SETU to co-develop this EDI masterclass series. This is a very exciting first step in our collaborative work together to further enhance and embed EDI practices across the further education sector in the South East Region".
For more information, SETU Lifelong Learning at lll.cw@setu.ie or call 059 917 5280.