Congratulations to Megan Broaders Murphy, who successfully secured and commenced a Motor Mechanic Apprenticeship with Donohoe Skoda, Quarry Park Motors, Enniscorthy, Co. Wexford, through the WWETB Craft Apprenticeship Female Scholarship. 
 "Of paramount importance to management and staff in Donohoe Skoda is to have a workforce where Diversity, Equality and Inclusion is at the forefront. We pride ourselves on our welcoming atmosphere and our colleague camaraderie. Our employer brand is consistently evolving to create a workplace that is open to anyone who has the desire and aptitude to work for us, regardless of their gender, background, ethnicity etc." commented Laura Devereux HR Manager with Donohoe Skoda.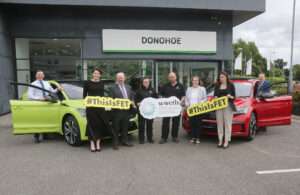 From left to right : Gary Masterson General Manager Donohoe Skoda, Marie Esmonde Senior Training Advisor WWETB, Kevin Lewis Chief Executive WWETB, Megan Broaders Murphy Motor Mechanic Apprentice Donohoe Skoda, Eamon Doyle Master Technician Donohoe Skoda, Laura Devereux HR Manager Donohoe Skoda, Lindsay Malone Director of Further Education and Training WWETB, Trevor Sinnott Services to Business Manager WWETB
Megan chose an apprenticeship because she enjoys learning by doing.  Megan offers advice to future apprentices when she states "To females who are thinking about a future career in Science, Technology, Engineering and Maths (STEM), I would say that there are a lot of opportunities and help there, so don't be afraid to embrace the opportunities in supporting you to follow your chosen career path. When I first learned that I could get a qualification in the Automotive Engineering sector by a mixture of on the job 'hands on' learning, college, and training in the classroom, I realised that apprenticeship was in my case the perfect career choice."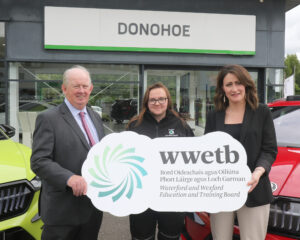 This apprenticeship scholarship is unique to WWETB and demonstrates the importance of successful partnerships between the Automotive Industry and WWETB. Trevor Sinnott, Service to Business Manager in WWETB commented "This WWETB female scholarship a fantastic opportunity for female students who are registered in a Waterford or Wexford post primary school or further education and training centres (FET) in the calendar year 2023 to apply for a scholarship in one of the 25 different craft apprenticeships".
For more information on the 2023 WWETB Female Scholarship please contact the Services to Business unit by email on servicestobusiness@wwetb.ie. Or by phone on 051-301502