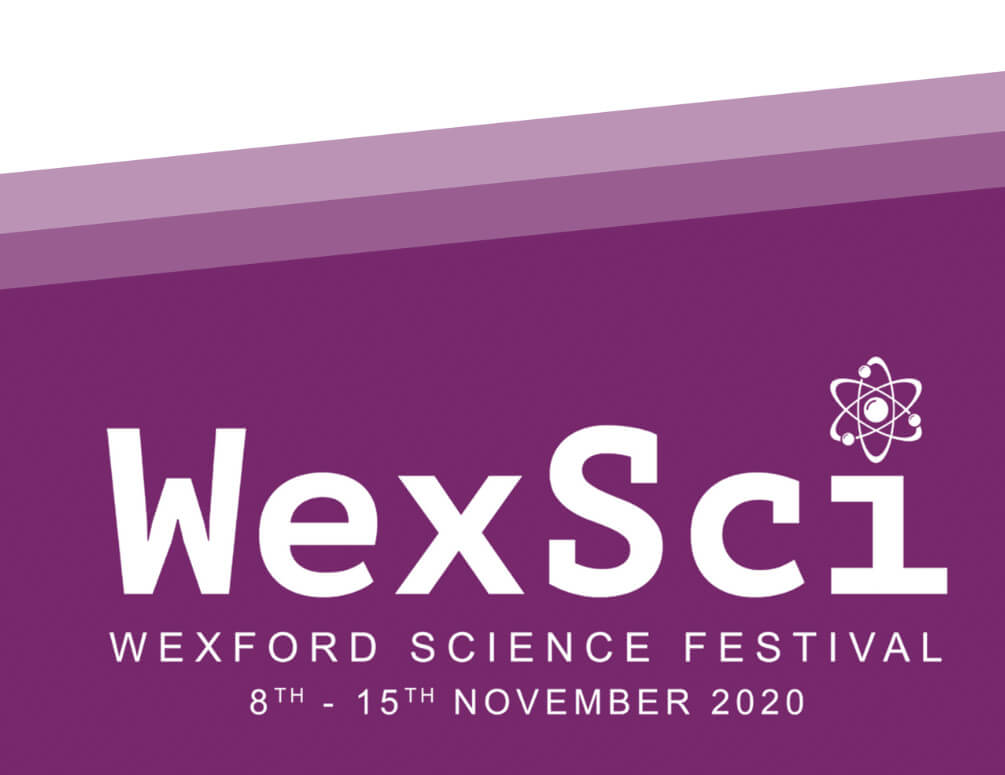 WWETB is delighted to team up with WexSci, Wexford Science Festival, as part of national Science Week, takes place from Sunday the 8th to Sunday the 15th of November. This year there are lots of online activities for all ages to explore. Visit www.wexfordsciencefestival.ie to view and book events for schools, families, adults and students.
Some of the festival highlights for families and young people will include limited-edition Cryptography kits that will be posted to participants, Science Foundation Ireland's Pick Your Brain! Live family quiz with Phil Smyth, the StoryGate inventor series for young inventors, StrongWomen Science workshops and the interactive Baking in Space show, where space champion, Dr. Niamh Shaw and Great British Bake Off finalist, Andrew Smyth, will bring you on a journey from Earth to the Moon and back, with demos and bakes directly to your kitchens.
There will also be plenty to captivate the imagination and curiosity of adults with informative talks with STEM experts such as Dr. John Sweeney who will examine recent advances in climate change science in his presentation Updating Climate Science in the 'New Normal World'. Dr. Niamh Shaw who will present her Society in Space series, a curated series of talks with space experts including  NASA's Chief Scientist, Dr. James Green and ISS Flight Controller at the European Astronaut Centre in Germany Andrea Boyd. Dr. Michael Monaghan is the Trinity Professor who heads the MED3DP initiative, in the Department of Mechanical, Manufacturing and Biomedical Engineering at Trintiy College Dublin and he will be hosting a webinar on 3D Printing Research & Applications- Innovations for humanitarian healthcare – the hype and the reality. The EPA would like to invite you to attend the virtual launch of the digital radon monitor scheme for the New Ross Library on Tuesday 10th. The pilot study was launched in Bunclody library during Science week 2019 and will now be available to households from the New Ross Library.
This is just a snapshot of some of the activity that is planned for this year's festival so make sure to visit the website and explore the programme. This new festival format will allow audiences to access STEAM activities from their own homes in a combination of pre-recorded events that will be online for audiences to interact with in their own time and some live digital events that require you to book in advance, so please familiarise yourself with our programme ahead of Science Week on the Wexford Science festival website on www.wexfordsciencefestival.ie or on Facebook @WexSciFestival.
WexSci Wexford Science Festival is brought to you by Wexford County Council Library Service and the Community Development Department, in partnership with SFI, Science Foundation Ireland, EPA, Creative Ireland, WWETB, Youth Train Wexford, I.T. Carlow, and Local Link Wexford and in collaboration with the business sector, community groups, national, regional and local agencies.