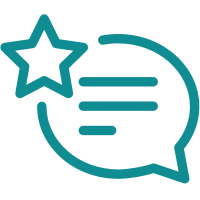 Testimonials
Check out these glowing reviews from our past students!
"When I come in the door there is a sense of warmth and homecoming about the space and my
confidence has been built up so much."
Anne Kavanagh

Health & Wellbeing Programme Community Education
"It's always been a family more than a school. I would recommend any 6th class student to join us and be another member of the family."
Brenda Whelan

Student from Coláiste Abbáin
"I really think PLC is a great idea as it gives you an insight into what college is like without the huge pressure."
Daniel Leech

Student Enniscorthy VEC
"The trainers are always there if you need a hand. They give you a good foundation and you can then build on that. It's going to stand to me when I return to work. I can go anywhere with my qualification."
Jonathan Barrett

Mechanical Automation & Maintenance Fitting Apprentice, Waterford Training Centre
The level 5 Outdoor Sport and Recreation course at the Bunclody Adventure Hub opened up new opportunities for me and introduced me to a wider range of outdoor sports. It was challenging at times but always rewarding. I am now working in the outdoors and introducing my kids to outdoor sports.
Lorraine Byrne

Student 2019-2020
My name is Edel Crawford, I'm 44 and just finish my first year in QQI Levels 3 Employability skills and QQI level 4 in office skills, the year was full of excitement and trepidation as to whether I was going to be able for the year ahead but with all the help from the fantastic staff they made it easy. VTOS has changed how I see myself and has giving me the confidence to expect more from myself and my skills.
Edel Crawford

VTOS Student Gorey Further Education and Training Centre
Hi, my name is James Tallon, I am a student in Gorey VTOS, I was part of a class with some wonderful people and was instructed by wonderful instructors who were willing to go that extra mile and go out of their way to help students. From the moment I walked into the building I found it to be a very warm friendly place to learn.
James Tallon

VTOS Student Gorey Further Education and Training Centre
My first year on Gorey VTOS. I joined VTOS in September 2020 and it was my first time back in education since 2018. When I first joined, I was a bit nervous once I got to know the Centre and the teachers I settled down. After a month on VTOS we had to continue the rest of our course online due to the covid pandemic. My second year on Gorey VTOS. I started my second year on VTOS in September 2021 we had full access to the Centre all year. It was nice meeting new people and getting to know them. Soon I will be starting my third and final year on VTOS in September and I will recommend anyone to join VTOS at the Gorey Adult & Further Education Centre
Andrew Trott

VTOS Student Gorey Further Education and Training Centre
Hello, my Name is Kasem, I'm 23 years old. I have just finished my first year in VTOS, it has helped me improve my English allowing me to start a part time job. The subjects that I loved in VTOS were English and Engineering. It has given me the skills and opportunity to apply for an apprenticeship, allowing me to look after my wife and family.
Kasem

VTOS Student Gorey Further Education and Training Centre
My experience in the VTOS Centre has been positive. I've become friends with the other students in my course and I have finished my QQI level 3 award where I completed modules such as woodwork, metalwork, nutrition, communication and IT. I am looking forward to Level 4 in September.
Sarah Byrne

VTOS Student Gorey Further Education and Training Centre
My name is Maria Fonseca, I'm 43 and I just finished my QQI level 5 Business Administration on VTOS. It was a year full of challenges and struggles but always with the help of excellent teachers and in a fantastic environment. VTOS gave me a life changing as now I am ready to build a better future for me and my family. 
Maria Fonseca

VTOS Student Gorey Further Education and Training Centre
As a former adult learner at the Waterford & Wexford ETB I am writing to tell you my experience and how life has progressed since then.
My name is Joyce O'Carroll I started in the Waterford & Wexford ETB ( Tramore) in September 2009 doing FETAC level 5 Healthcare Support. At the time I was doing voluntary work with the elderly in the community.
I can clearly remember my first class. The tutor Cathy Freiby went through all about the course contents and requirements. Let me say I was abit shocked and overwhelmed. It was 20 years since I left school. I felt there is no way I will be able for this. At the end of the class I stayed back to talk to Cathy voicing my concerns. I was put at ease straight away. Cathy told me that we were all adult learners and all in the same boat reassuring me that the tutors would always be there for us.
In the 2 years I successfully completed 9 modules, yes there were times when I found it difficult. But I had my tutors and fellow students to talk and work things through everybody helped each other out. It was a fantastic achievement for me I was so proud of myself. I have met some amazing people, which I can truly say will be life long friends. I finished in the Tramore in June 2011. I do miss it. But life goes on!
In September 2011 I set up my own business Wigworld, specialising in wigs and hairpieces for medical related hair loss due to Chemotherapy, Aleopica and Thinning hair. I am a one stop shop from consultation, fitting, styling, aftercare, maintenance and pre & post hair loss services.
A lot of what I have learnt from the .Healthcare Support course is followed through into what I am doing today. It goes hand in hand. All my skills and knowledge combined is what makes Wigworld a success story.
2011- I was a finalist in 'Excellence in Professional Services ' at the South East Women in Business Conference and Awards.
2012- I won 'Businesses Women of the Year ' at the Waterford Mirco Business Network Awards.
2013- I was a finalist in Best in New Business' at the FAB Waterford Women in Business Awards.
2014 -I won ' Best in Business Services' at the FAB Waterford Women in Business Awards
I can highly recommend the centre to anyone considering developing their skills and learning new ones.
If there is anything to be learned from reading this is:
" If I can do it so can you"
Have a look at my website www.wigworld.ie
Find us on facebook:  www.facebook.com/wigworld
Joyce O' Carroll

Healthcare Support Student Tramore Further Education and Training Centre
As a former adult student at VTOS Dungarvan I am writing to tell you of my experience and how my life has changed since then.
My name is Michael Fraher and my return to education started in September 2010. I began a two year Business Studies (QQI Level 5) at VTOS Dungarvan. I can still remember my first class. The tutor, Aileen O' Connor, told us all about the course contents and requirements. To say I was overwhelmed was an understatement. It had been 17 years since I left school. I thought there was no way I would be able for it. However I took it one day at a time and opened myself up to this new challenge.
At VTOS under the guidance of the lecturers I began to change my life with new skills that would become the corner stone of my new career. I learned different subjects from Communications, Information Technology Skills, to eBusiness. I discovered a whole new world that was both exciting and challenging at times. During this time I developed a real interest in the manual and computerised accounts side of the course. In those 2 years I successfully completed each module which at times was difficult.VTOS gave me confidence and ability to embark on a new road and the challenges that lay ahead.Towards the end the lecturers supported me in applying for college and I was awarded a place at Waterford Institute of Technology on a 3 year Accounting Degree. I am pleased to say that I graduated with honours from WIT in October 2015.Today I am employed with Ernst & Young, one of the "Big 4" accounting firms. I would not have achieved this without VTOS. I know that most people are frightened at the thought of going back to education. However VTOS gave me the skills and drive to embrace change and make a new life for myself. In the future I would love to return to VTOS as a lecturer and support students like I was. I would like to take this opportunity to thank all at VTOS and especially to Clodagh Connors who told me to always do my best.
I would encourage anyone to consider developing their skills and learning new ones with VTOS Dungarvan. And remember the first step is always the hardest.
Michael Fraher

VTOS Student Dungarvan Adult Education Centre