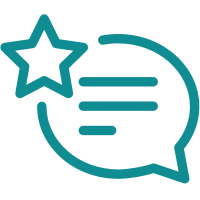 Testimonials
Check out these glowing reviews from our past students!
"When I come in the door there is a sense of warmth and homecoming about the space and my
confidence has been built up so much."
Anne Kavanagh

Health & Wellbeing Programme Community Education
"It's always been a family more than a school. I would recommend any 6th class student to join us and be another member of the family."
Brenda Whelan

Student from Coláiste Abbáin
"I really think PLC is a great idea as it gives you an insight into what college is like without the huge pressure."
Daniel Leech

Student Enniscorthy VEC
"The trainers are always there if you need a hand. They give you a good foundation and you can then build on that. It's going to stand to me when I return to work. I can go anywhere with my qualification."
Jonathan Barrett

Mechanical Automation & Maintenance Fitting Apprentice, Waterford Training Centre
The level 5 Outdoor Sport and Recreation course at the Bunclody Adventure Hub opened up new opportunities for me and introduced me to a wider range of outdoor sports. It was challenging at times but always rewarding. I am now working in the outdoors and introducing my kids to outdoor sports.
Lorraine Byrne

Student 2019-2020