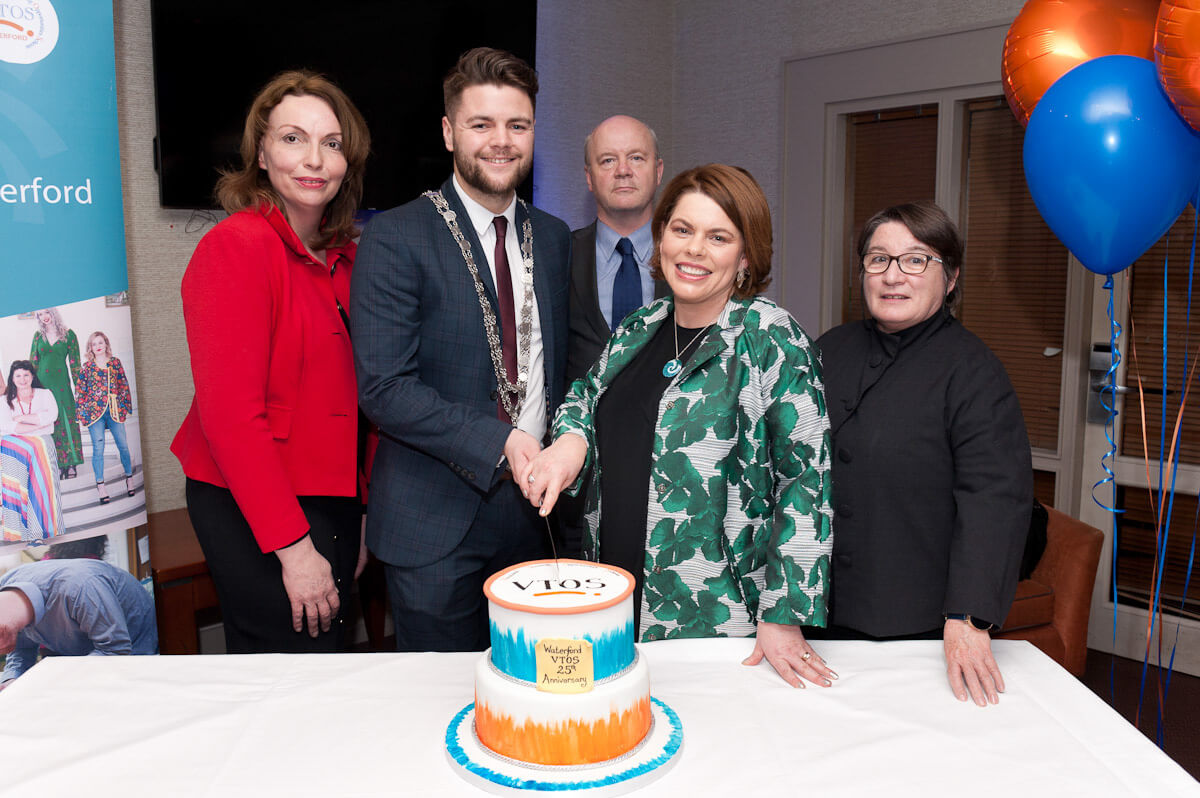 The Waterford VTOS Awards Ceremony is always a special night for staff, graduates, family and friends. This year, the night was extra special since Waterford VTOS was celebrating 25 years of providing quality education and training to the people of Waterford City and its hinterland since it first began in 1994.
The event took place in the Tower Hotel, Waterford on the 5th of March 2020. On the night, Cllr. Adam Wyse deputised on behalf of the Mayor of Waterford and presented 78 QQI Awards to the successful graduates of 2019.
Former graduates, Pat Scahill, Assistant CE Supervisor and Catherine Gannon, who is working with Irish fashion designer, Sorcha O'Raghallaigh, spoke about Waterford VTOS being their pathway to employment.  David Grant and Katie Flynn spoke of Waterford VTOS preparing them to apply for WIT and both are presently doing a BA in Visual Arts.  Katie Flynn, as Student of the Year, was presented with a beautiful vase sponsored the Irish Handmade Glass Company based in the Kite Design Centre.
Waterford VTOS also welcomed back former graduates who have started their own businesses; furniture up-cycler, Marianne Heaphy of "The Revamp Tramp"; jewellery designer Majella Kervick of "Mise" and glass artist Mary Maxey of "Golden Hat" showcased their bespoke original design pieces which were greatly admired by all attendees.  Marianne Heaphy had been on "Deise Today" earlier today with Paul Dower of "Waterford in Your Pocket" talking about how Waterford VTOS was the first step they had taken in their journey of setting up their own businesses. Helena Finlay, VTOS Co-ordinator, paid tribute to the Local Enterprise Office for their crucial role in encouraging and supporting Waterford VTOS graduates in starting their own business. She also paid tribute to the staff of Waterford VTOS and WWETB in supporting adult learners and reflected that over the years, the courses and accreditation offered may have changed but Waterford VTOS remained committed to offering courses with an emphasis on practical skills enabling graduates to get employment, start their own businesses or progress to further education.
The QQI Level 5 two-year courses offered by Waterford VTOS such as Art, Craft & Design; Fashion Design & Sewing Skills and Interior Design courses are unique in the south-east. Whilst the QQI Level 5 Information Technology and Business Administration offers much sought after skills in Payroll and Accounts, Web Design and Medical Terminology.
Waterford VTOS is now accepting applications for September 2020. Call Helena or Fintan on 051 852802, visit the Waterford VTOS office in Durands Court or website: www.adulteducationcentre.ie